Address update: join us at Silicon Valley Bank, 505 Howard St, San Francisco, CA 94105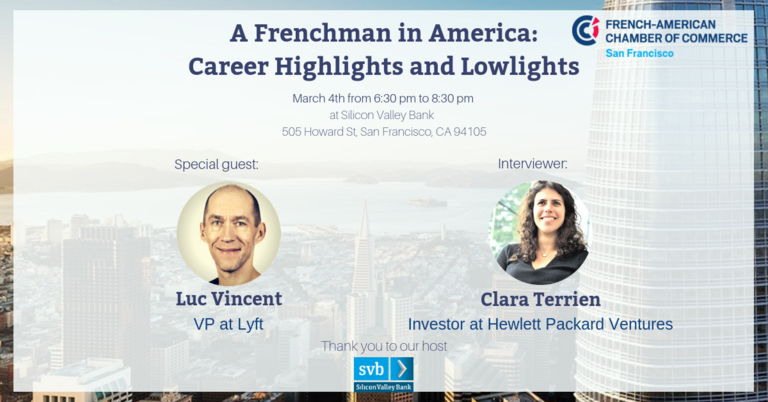 ABOUT THE TOPIC
Meet one of the leaders of the smart mobility industry in Silicon Valley: join us at Silicon Foundry on March 4th and learn all about the twist and turns of Luc Vincent's career with a focus on his roles at Google and now at Lyft, as a VP. The interview will be led by Clara Terrien, Investor at Hewlett Packard Ventures.
Luc won the Gold award in "Leader in smart mobility category" of the French-American Business Award 2018 (FABA).
The discussion will be followed by a networking cocktail!
ABOUT THE SPECIAL GUEST
Luc Vincent is Lyft's VP of Engineering for Self-Driving, where he leads the Level 5 Engineering Center and Lyft's self-driving efforts. Prior to Lyft, Luc spent 12 years at Google, most recently as Senior Director of Engineering, leading the Geo group and developing Street View. Before Google, Luc was Chief Scientist at LizardTech and spent time at Xerox. He holds almost 100 issued patents and over 60 publications. Luc has earned multiple graduate degrees and was a postdoctoral fellow at Harvard.
ABOUT THE INTERVIEWER
Clara Terrien is an Investor at Hewlett Packard Ventures - the venture investments and solutions program at Hewlett Packard Enterprise in Palo Alto. She is looking to invest in technologies that are reshaping the physical world (e.g., transportation, manufacturing, cyber security) to boost operational efficiency, increase sustainability, and improve safety of critical infrastructures. Prior to that role, she developed an expertise in the automotive industry at the Renault-Nissan-Mitsubishi Alliance and UC Berkeley's Transportation Sustainability Research Center.
ABOUT THE EVENT

Who? Up to 50 participants, FACCSF members & non members.
When? Monday, March 4th, 6:30 PM - 8:30 PM
Where? Address update: Silicon Valley Bank, 505 Howard St, San Francisco, CA 94105
Price?
- Early birds tickets for FACCSF members only*: $15 (until January 15th)
- Members*: $20
- Non-members: $45
*Tickets are non-refundable or transferable. Proof of membership will be asked for FACCSF members tickets.