The FACCSF in partnership with Challenges is glad to introduce the 4th live panel session of the series: France Vs. California: what's next?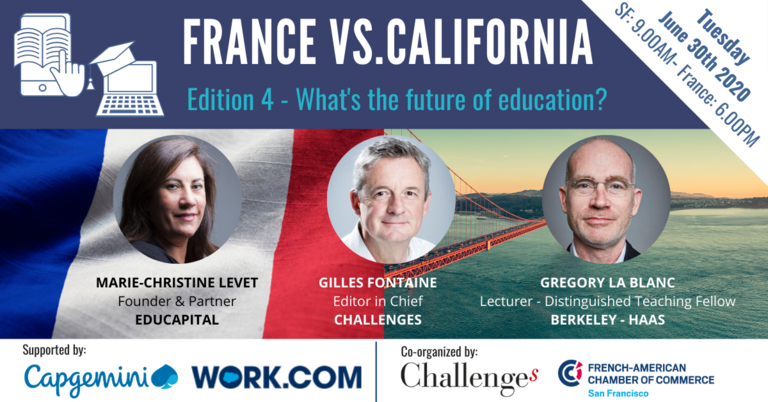 For this 4th Edition, we have the honor to invite you to join an exclusive live discussion between:
This panel is organized in partnership with Challenges.
What's the future of education on both sides of the Atlantic?
As of March 18, 849 million children and students have been forced out of schools and universities in a total of 113 countries. COVID-19 will exacerbate weaknesses in higher education business models that are highly dependent on international students and haven't created an adequate online strategy. Will online become the strategy to serve their mission instead of being just an addition to their programs ? Our guests from France and Silicon Valley will discuss the new challenges that higher education will have to overcome as soon as possible.
Among many topics, our guests will share their opinion on:
How will COVID-19 change higher education business models?
What is the current impact on international education ?
Who are the new players? What are the types of innovation solving these new challenges?
Who should invest? What are the links between tech/startups and institutions? Will COVID-19 increase their relationships?
Are we going toward a 100% online education?
Marie-Christine Levet, founder & partner of Educapital
Marie-Christine Levet is a French internet pioneer with 23 years of experience in new technology. She has been the founder and CEO of major internet and media companies (Lycos, Club-Internet, Groupe Tests…) Following her accomplished entrepreneurial life, she turned to venture capital in order to bring her experience to younger CEOs. In 2009, she took part, as a partner, in the launch of Jaina Capital, one of France's first entrepreneurs funds. A mother of two sons and a strong believer of the power and impact of innovative education, Marie-Christine decided to create, in 2017, EDUCAPITAL, the first European fund dedicated to Edtech. Marie-Christine seats on the boards of Digischool, LiveMentor, Magic Makers, Manzalab and Student Pop. She is an HEC graduate and she holds an INSEAD MBA, and currently serves as board member with Iliad (Free), Maisons du Monde, Econocom, So Local and AFP.
Gregory La Blanc, Lecturer| Distinguished Teaching Fellow at Berkeley Haas
At Berkeley Haas, Greg La Blanc teaches primarily in the areas of finance and strategy in the MBA and Masters of Financial Engineering programs and in Executive Education. La Blanc has also worked in competitive intelligence and litigation consulting and has advised consulting teams in finance, marketing, and strategy. His research interests lie at the intersection of law, finance, and psychology, in the area of business strategy and risk management. La Blanc is the recipient of teaching awards including the Earl F. Cheit Award for Outstanding Teaching and the Berkeley EWMBA Graduate Instructor of the year.