Registrations are now open!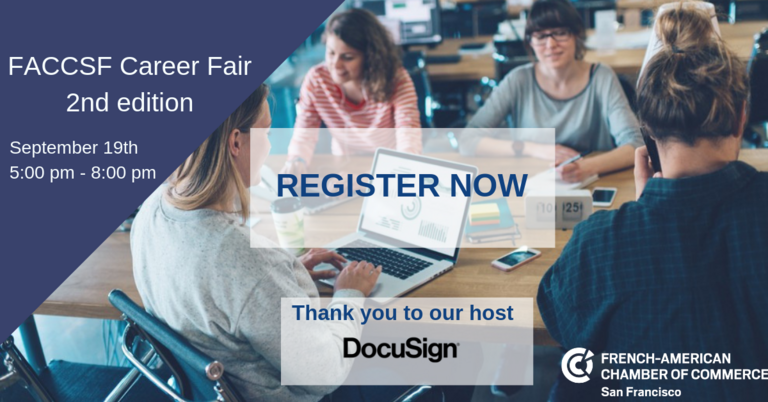 Registrations are now open!
The 2nd edition of the FACCSF Career Fair is coming up on September 19th!
Job seekers, get ready to meet HR professionals, to network & to give a nudge to your career!
Hiring? Register for a booth and meet talented candidates!
Discover now the first exhibiting companies:
- LNB Accounting
- Ivalua
- Dacast
- Planisware
- Infotech Sourcing
- EFBA
- La Tourangelle
- Bolt Staffing
- Bank Of The West
Meet the panelists:

First part - "Business HR Culture: diversity and inclusion"
With George-Axelle Broussillon Matschinga, Director of Diversity and Inclusion at Sunrun
.

Committed to attracting, developing and advancing underrepresented groups in the workplace for more than ten years, George-Axelle Broussillon Matschinga is the Head of Diversity & Inclusion at Sunrun. There, she is responsible for design, strategic direction, implementation and business alignment of Sunrun's Diversity and Inclusion initiatives through Talent (Human Resources), Communications and Public Policy.
One of the first Diversity practitioners in France, George-Axelle started her career at L'Oréal and co-designed the group's inaugural Global Diversity policy and strategies aiming at fostering creativity and innovation to reach one billion new consumers.
A graduate from Harvard University and ESCP Europe Business School, she served as the elected Vice-President of Diversity of Harvard Kennedy School's Student Government.
Honoree for Diversity, Equity and Inclusion, she loves mentoring women and students from all backgrounds.

Second part - "Applications and job interviews 101: Dos and don'ts"
With Brion Wikes, Head of Talent Acquisition at Ivalua

Brion Wikes recently joined Ivalua, Inc. as Head of Talent Acquisition and has a successful track record of scaling several technology companies in the Silicon Valley, including 8x8, Inc., CA Technologies, & VMware.

At 8x8, he led the Global Talent Acquisition & Operations and scaled the company from 600 to 1500 employees within a 2-year period and at VMware, Inc, he led the recruiting for the core technology teams for over 7 years as the company grew from 700 to over 13,000.

Brion's earlier career as a Technology Recruiter spanned several notable startups including Nuance Communications, Simplex Solutions, and Apple, where he hired most of the original iPhone software team.
Interested in sponsorship opportunities? click here
Click here to take a look at the pictures of the 1st edition.
Pricing:
For job seekers and candidates:
$15 for FACCSF members
$30 for non-members
For hiring-companies, book your booth:
$150 for FACCSF members only
If you want to set-up your booth and if you are not member yet, click here to become member!
Thank you to our Silver sponsor LNB Accounting