How the pandemic has accelerated the shift away from physical store to online shopping by 5 years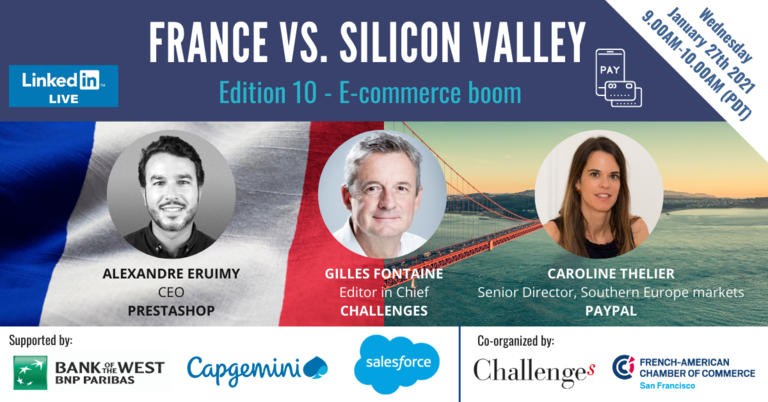 What's the future of the e-commerce in France Vs. Silicon Valley?
>> How the pandemic has accelerated the shift away from physical store to online shopping by 5 years <<
Digital strategy to help store retailers pivot
What are the tools to successfully launch an online store?
The rise of e-commerce platforms such as Prestashop
The importance of an effective and easy online checkout
How much of this new behaviour is a temporary shift and to what extent is it impacting longer-term forecasts?
What are the new merchant behavior to fight against the giants like Amazon?
Join us on LINKEDIN, on Wednesday, January 27th 2021 to hear from two inspiring speakers:
Alexandre Eruimy, CEO of Prestashop
After graduating from ESSEC Business School, Alexandre Eruimy started his career at the consulting firm Roland Berger, where he specialized in Retail & Consumer goods. After an experience within the large customer sales team of Google's Retail & e-Commerce branch, he joined PrestaShop in 2016 as Head of Partnerships & Business Development. Since becoming CEO in 2018, Alexandre has worked to significantly grow the open-source community as well as PrestaShop's business and ecosystem.
During this time, he has defined a new vision and strategic plan for PrestaShop while leading the transformation of the company towards a more regular and consistent business model and bringing about a shift to a more user and data-centric culture. As a retail expert, he regularly speaks at industry events and in the media. Beyond his professional career, Alexandre is a proud husband and a father to a 17 month-old daughter. He has been strongly involved for several years in the area of equal opportunities, education and social business initiative
Caroline Thelier, Senior Director, Southern Europe markets at PayPal
Caroline has spent 5 years at Bain & Company before launching her own start-up, a Travel website leveraging AI to simplify preparation of short city trips around the world. In 2010 she joined PayPal and she held different positions in Product, Sales and Marketing. She was General manager of PayPal France for 3 years and she supported the PayPal 4th market turnaround, investing in the ecosystem, reaccelerating the business and growing the consumer franchise to over 10 million active users while the brand became the 8th most preferred in France and the 2nd Best Customer experience among most know international and national champions. After a year leading the PayPal Global Partnership Marketing team in New York, Caroline has is now Senior Director of the Southern Europe markets, leading a region where PayPal has more than 25M active customers and has recently seen a huge acceleration of digitalization and online commerce. In her role, Caroline is responsible for driving a passionate business team, developing new partnerships and sources of growth in a critical region for PayPal globally.
This event is organized in partnership with Challenges Magazine. It will be moderated by its Editor in Chief: Gilles Fontaine
It is supported by our members: Bank of the West, Capgemini & Salesforce