Watch an interview with our Member: Florence Ropelewski, Founder of L'AGENCE and learn more about Real Estates in the Napa Valley!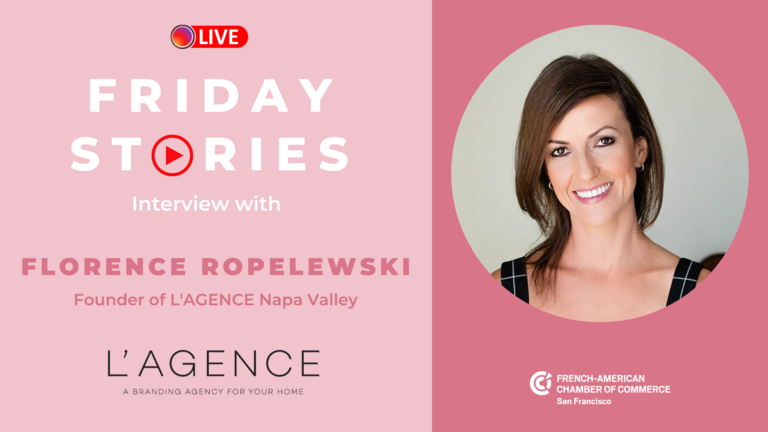 About Florence Ropelewski
A native of Bordeaux, France, Florence Ropelewski settled in Napa County in 2007 and now considers the Bay Area her adopted home. Florence's innate enthusiasm for the Real Estate industry, her unfaltering work ethic and savvy marketing expertise, make her the ideal Realtor® and client advocate. Florence has established a stellar reputation and strong network in the Napa Valley and Bay Area. She brings fresh enthusiasm and a clear vision to each client, alongside an award-winning skill set of pricing expertise, digital marketing talent and strong negotiation skills.
About L'AGENCE Napa Valley
L' AGENCE was founded by Florence Ropelewski who was born and raised in France, hence the name L' AGENCE (agency in English). Florence comes from a long line of real estate professionals. Her great-grandmother began a real estate career in the 1930's, and Florence's grandfather continued the family's real estate legacy by establishing what would become one of the most reputable and well-known brokerages in Bordeaux, France.
Prior to real estate, Florence pursued a marketing career in the Napa wine industry. She fell in love with the Bay Area, and after a decade in wine, she decided to get her real estate license and start assisting people buying and selling homes. Soon, it became more than that. It became about building a business, making a difference and empowering others. Florence aspired to build something larger than herself and create a service that could benefit the community—and so, L' AGENCE was born.
Check out their website to learn more!
-------
❓How to watch the Live on Instagram❓
1. Log on to Instagram at 1:00pm
2. Go to the FACCSF profile @faccsf
3. Tap the icon that says LIVE in the top left corner
4. Ask questions and participate!👀