Partez à la découverte des plus beaux succès français de la Silicon Valley!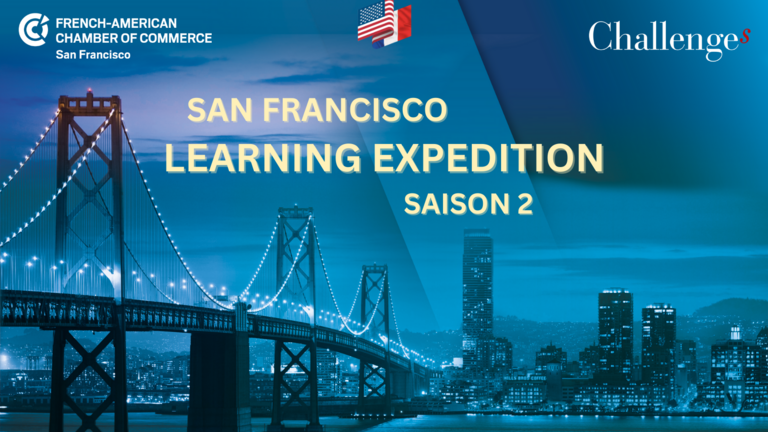 Challenges et la FACCSF (Chambre de commerce franco-américaine de San Francisco) organisent la deuxième édition de leur Learning Expedition au cœur de l'épicentre mondial de l'entrepreneuriat et de l'innovation.

En vedette de ce voyage : les plus belles réussites françaises de la Silicon Valley : start-uppers de la Tech, investisseurs, chercheurs, entrepreneurs, executifs de grands groupes, vignerons, chefs cuisiniers ou artistes… La communauté française de la Valley, forte de plus de 30 000 membres, demeure l'une des plus actives de la région depuis plusieurs décennies. Ces femmes et ces hommes ont construit leur légende au cœur de l'écosystème le plus stimulant et le plus exigeant de la planète. Ces trois jours de découverte seront l'occasion de rencontrer celles et ceux qui ont réalisé le rêve californien et de les entendre raconter leur success-story inspirante, leur trajectoire insolite.

Le point d'orgue de notre expédition sera la participation au dîner de gala des French American Business Awards (FABA), la grande soirée annuelle de la communauté franco-américaine de la Silicon Valley, récompensant les plus belles performances d'entreprises et réalisations individuelles. Ce rendez-vous unique est aussi l'occasion d'échanger directement avec celles et ceux qui comptent dans l'écosystème californien. Retrouvez tous les détails de cette soirée sur www.thefaba.com.


PROGRAMME INDICATIF* :

Mardi 30 mai 2023 ​

​Mercredi 31 mai 2023
Rencontre avec Stéphane Kasriel, Head of Commerce & Financial Technologies at META
Rencontre avec Marylène Delbourg-Delphis, Serial Technology CEO, Board Member and Advisor
Visite d'un key player de la mobilité
Visite d'un labo de l'université de Stanford
​
Jeudi 1er juin 2023
Rencontre avec Carlos Diaz, Repeat entrepreneur, Podcaster & General Partner at DIASPORA VENTURES
Visite d'un key player des plateformes communautaires
Rencontre avec une personnalité de la Napa
Soirée exclusive avec des leaders de la communauté franco-américaine: la cérémonie des French American Business Awards
Informations pratiques :
Quand : du 30 mai au 1er juin 2023
Où : San Francisco / Silicon Valley
Prix : $4,500 **

INCLUS DANS LE TARIF :
L'élaboration et l'organisation d'un programme de 3 jours, sur la base de 4 rdv par jour
Coordination et accompagnement sur place par un membre senior de l'équipe de la FACCSF et par un membre de l'équipe éditoriale du magazine Challenges.
Transport vers et entre chaque visite.
Cocktail et dîner, participation à la soirée des French American Business Awards 2023 (FABA) le 1er juin 2023, de 18h à 23h30.

NON INCLUS DANS LE TARIF :
Billets d'avion : à la charge des participants (nous pouvons recommander des agences de voyage et des compagnies aériennes si besoin).
Transport enter l'aéroport et votre hôtel.
Nuits d'hôtel : à la charge des participants (nous avons des tarifs négociés avec le Beacon Grand hotel, nous contacter pour plus d'information).
Repas et boissons sur place (à l'exception de ceux expressément mentionnés dans le programme, comme le dîner de cérémonie des FABA).

L'inscription sera confirmée après versement d'un acompte de 50% du montant total, soit $2,250 (non remboursable en cas d'annulation par le participant).


​Nombre de places limité !

* Le programme définitif sera communiqué aux participants au plus tard 3 semaines avant le début du séjour.

** Cette Learning Expedition sera organisée sous réserve d'un nombre minimum de participants.
Le versement de l'acompte ne constitue pas une obligation contractuelle pour la FACCSF d'organiser la Learning expedition.
En cas d'annulation par la FACCSF, votre acompte vous sera intégralement remboursé.
Pour en savoir plus, contactez-nous!