Join our Friday Stories with Germain Michel, owner of Amélie Wine Bar.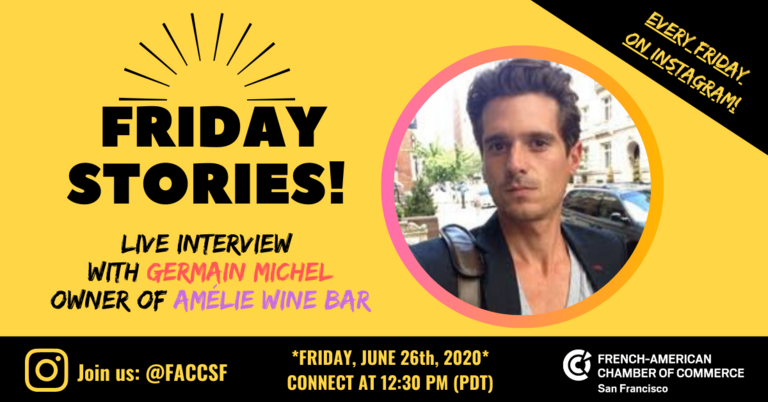 Each Friday, hear a story from one of our members, discover their news and projects!
JOIN us on Instagram for 10 minutes live interview with our special guest Germain Michel, owner of Amelie Wine Bar.
>>> How to participate? <<<
1/ Follow us on instagram: @faccsf
2/ Connect at 12:30 PM and join the LIVE
Germain Michel, owner of Amelie Wine Bar
Born and raised in the Rhone valley in France, Germain Michel moved to the US when he was 21 years old. He is a certified sommelier, as well as the Founder and co-owner of Amelie Wine Bar & Bistro, which has three locations between San Francisco and New-York city and was featured in the SF Chronicle, Forbes, Elle, the Michelin Guide... Germain is also the founder and co-owner of Michel Bistro Oakland, which was featured in the New York Times as the to 50 places to go 2016, and the Michelin Guide.
As a wine producer in France and Argentina, restaurant and small business owner, consultant and advisor, specialist of the food and beverages industry with around 70 employees, Germain's journey is a fascinating look into the life of a French entrepreneur in San Francisco.
Germain is also an amateur boxing license holder and kitesurf and surf ambassador, co-partner at Manera flagship store!
Owners Germain Michel and Samie Didda's concept of affordable wines and equally wallet-friendly French snacks has kept them popular on Polk Street since it opens his door in 2006 Amelie has now three locations in the united states: Polk street san Francisco, west village New York new York , upper west side new York new York Since 2006 Amelie has been acclaimed by press and patrons with press like best wine bar in America '(OpenTable) , best bar soundtrack by 7by7 , best wine bar (sf examiner) bib gourmand (guide Michelin) , New York times , San Francisco chronicle , la. Revue du vin de France …. .
And no wonder --- the wine list is generous, offering 40 reds and whites by the glass, and roughly 100 by the bottle. Not surprisingly, cheese and charcuterie plates are the strongest contenders to pair with the wines. Cheese plates come alongside French baguette breads, house-made apricot and pear ginger spreads, honey and fresh fruit. Charcuterie is a savory assortment of hot coppa, salami, duck prosciutto, onions stewed in grenadine, and mustard with a spiciness that rivals wasabi. Cracker-thin pizzas are layered with kale, sweet-tart grenadine syrup, and portobellos. Raviole du Dauphine are stuffed with Comté and cottage cheeses and dominated by a rich béchamel. Amelie's cool, lounge vibe is punched up with eclectic elements such as a chandelier constructed of letters penned by customers and wall-mounted illuminated wine bottle art.