Worried about visas and how to avoid immigration mistakes? Come lunch with a true expert on the subject!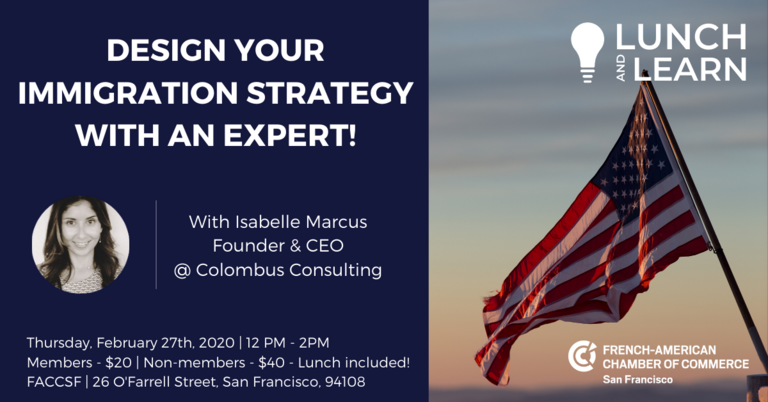 OPTIMIZE YOUR VISA STRATEGY
Understanding Immigration is key for the success of any expatriate individual or foreign business in the US. Being able to anticipate and manage increasingly complex immigration matters is indeed of the utmost importance, whether you are an individual, an Entrepreneur or a CEO.
Green card strategy
We will discuss the best Green Cards [EB1, EB2-NIW, EB2] strategy for you as an individual or your employees. Notably: When to start the process- What are the criteria of eligibility- What is the best green card category if I am a founder- What is the current timeline.
E visa: Understand how French nationals are impacted by the newest E visa rules.
O1 visa: We will discuss the O1 visa as an alternative option for business executives/entrepreneurs and in case of change of structural ownership when E visa is no longer an option.
Q&A: The presentation shall be followed by a Q&A where our expert will answer any questions you may have as regards US immigration!

ABOUT OUR SPEAKER
Isabelle Marcus is the founder and CEO of Colombus Consulting Group. They assist individuals, multinationals, start-ups, Artists and entrepreneurs in all industries (such as Fashion, Advertising, Entertainment, IT Consulting, Production, Publishing, BioTech, Food industry...) to respond to their mobility needs in the United States, set-up and develop their business. The offer individually tailored assistance, offering advice and developing your business in collaboration with the entirety of our network in the US composed of highly skilled Experts and Attorneys.

ABOUT THE EVENT
Who? An expert & up to 12 participants
How? Our speaker will share their insights and save time for questions
When? Thursday, February 27th 2020, 12:00 PM - 2:00 PM
Where? FACCSF office - 26 O'Farrell St, San Francisco, CA, 94108
Why? Share experience, learn and network!
Price? $25 for members - $50 for non-members - Including lunch!