Join us for the first edition of our Lunch & Learn sessions and hear all about getting hired in the US from an expert!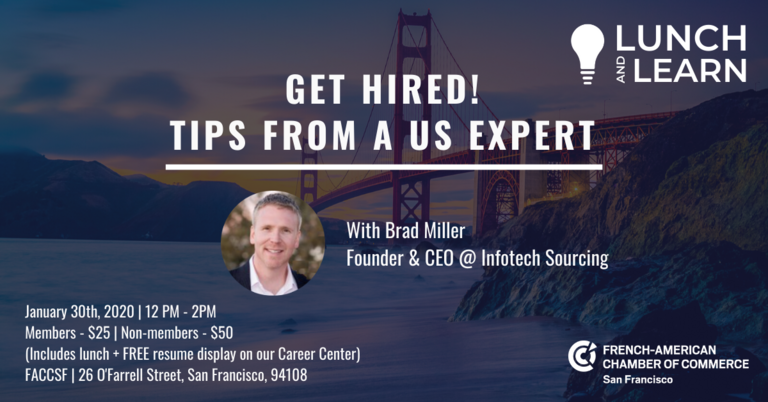 Define your goals & job research targets on January 30th! Register now for tailored career advice from an experienced US recruiter

Actively looking for a job or just trying to understand recruitment culture in the US?
Lunch with Brad Miller, CEO of Infotech Sourcing & US hiring practices expert!
LUNCH & LEARN SERIES: HAVE LUNCH WITH AN EXPERT!
Gain useful insights from a recognized expert and learn more about a specific topic while sharing a friendly and intimate lunch. Over the upcoming year, each of our guest expert will share their knowledge on every topic from HR and visas to marketing and other secrets of their trade.

CRACK THE US JOB MARKET
The US market is a tough one to crack, whether you are a business or an individual. This is your chance to ask everything you ever wondered about job hunting in the US and boost your career thanks to a local expert! We will deep dive on when and how to redefine your career in the US, finding a job in the tech industry, and how to stand out to potential recruiters and maximize your chances to get hired. Get your questions ready!

BRAD MILLER: CEO OF A TOP TECH RECRUITING FIRM
Brad Miller is founder and CEO of Infotech Sourcing a technology consulting and staffing firm based in San Francisco, CA. He is a results-oriented executive with international experience in managing turn around projects and operationalizing companies to help them run more efficiently and profitable. Previously, he ran the service and delivery practice for a London based startup. Mr. Miller lead the build out of the EMEA operations and was responsible for execution and profitability across all sales and delivery. He has a track record of taking on various operational challenges and implementing process improvements that impact bottom line profitability across functional teams. He has extensive experience to a broad range of technologies and the ability to build teams and grow profits in a continually evolving environment.
Mr. Miller has a passion for participating in startups and helping the core founding team grow to their full potential. He actively advises and invests his time and capital to help several startups achieve their true market potential. Mr. Miller also enjoys real estate investing and has successfully invested, developed and managed several profitable real estate investments. Mr. Miller has a double major from Indiana University - Kelly School of Business and has a double minor in Economics and Psychology.
ABOUT THE EVENT
Who? An expert & up to 12 participants
How? Our speaker will share their insights and save time for questions
When? Thursday, January 30th 2020, 12:00 PM - 2:00 PM
Where? FACCSF office - 26 O'Farrell St, San Francisco, CA, 94108
Why? Share experience, learn and network!
Price? $25 for members - $50 for non-members - Including lunch!
+ Creation of a candidate profile on our Career Center (worth $50): your resume on our job board & sent to our database in our monthly newsletter for 3 months