Meet one of our board member: Chloé Soroquere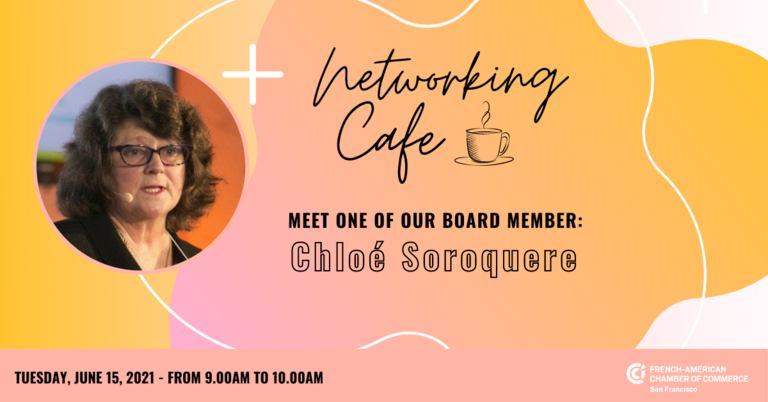 A board of 24 members governs the French American Chamber of Commerce. Each member is elected for a three-year mandate and is responsible for the conduct of the organization in co-operation with the permanent staff.
Meet one of them on June 15 and learn from her experience in the Bay Area:
Chloé Soroquere is a business, brand, marketing, and sales strategy consultant.
Chloéhas 30+ years of product management, marketing, sales, business development, customer research, and product-market fit strategy experience in financial services, clean technology, healthcare, education & not-for-profit sectors. Over the last 12 years she has worked with clients to attain their startup and growth goals while achieving social and environmental goals, helping them with business model validation, customer segmentation, and acquisition, research, online and offline strategies, CRM strategy/ implementation and social media. She was the lead for the Cleantech Open Global Ideas competition, a global search for the most promising clean-technology ideas, held annually in conjunction with Global Entrepreneurship Week (GEW), from 2015 to 2018.
Since 2016, Chloé works with the Global Cleantech Innovation Program (GCIP), a joint program of the Global Environment Facility (GEF), the United Nations Industrial Development Organization (UNIDO), and NGIN to guide clean technology startups in emerging countries on how to start, grow and scale their companies, foster economic impact in their country and look for potential partners in neighboring countries as well. Startups and SMEs are from Morocco, India, Pakistan, Turkey, Thailand, South Africa and other countries.
Chloé is on the board of the French American Chamber and the Union des Français de l'Étranger and is the President of the Comite Officiel of French American Organizations of the San Francisco Bay Area which organizes the Bastille Day SF festival.