Exclusive Interview of Michael Osborn (Wine.com) & Champagne Tasting with Geoffrey Loisel (Billecart-Salmon)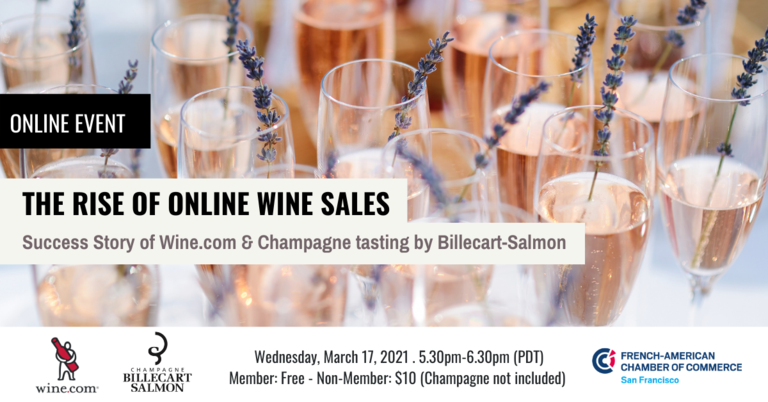 AGENDA OF THE EVENT
5.30pm: Introduction & Champagne tasting by Billecart-Salmon
6.00pm: Exclusive interview of the founder of Wine.com: Michael Osborn, followed by a discussion and Q&A
FACCSF MEMBER
1/ Register to the event for Free (Champagne not included)
2/ Receive your confirmation email with the link to order the Champagne
3/ Order your Champagne before March 11, 2021
NON-MEMBER
1/ Register to the event for $10 (Champagne not included)
2/ Receive your confirmation email with the link to order one or two Champagne
3/ Order your Champagne before March 11, 2021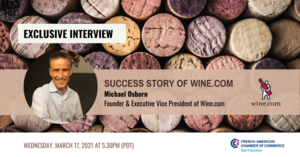 Exclusive Interview
Michael Osborn Founder & Executive Vice President - Wine.com
Mike Osborn has been a pioneer in online wine retailing since founding eVineyard in Portland in 1998. Mike now leads merchandising for San Francisco-based Wine.com and manages its key industry relationships. Wine.com trailing annual revenues have surpassed $340 million through January 2021. Wine.com offers selection, guidance and convenience not found in stores – helping customers discover the incredible world of wine with confidence. Live chat sommeliers provide friendly advice and customers receive unlimited shipping all year by joining StewardShip.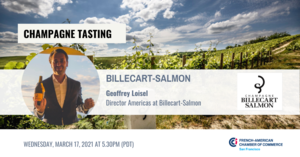 Champagne Tasting
Geoffrey Loisel, Director Americas at Billecart-Salmon
Geoffrey Loisel is from Le Havre, Normandy. For over 20 years now, Geoffrey has worked in many US cities from Miami to Chicago to New York to Los Angeles - holding various management positions with some of the most renowned champagne, and wine and spirits companies exporting to the US. Geoffrey holds a BA from the Normandy Graduate School of Management. He became passionate about wines when he was elected vice-president of his school's Wine Club. Geoffrey was appointed Director of Champagne Billecart-Salmon U.S. in 2010, and is now managing Sales and Marketing across all of North & South America.
Billecart-Salmon
Oldest continuously family-owned House, Billecart-Salmon was founded in 1818 by the marriage of Nicolas Francois Billecart and Elisabeth Salmon. For over two hundred years, the House has developed a renowned expertise in crafting fine, elegant and balanced Champagnes.