Join two experts in legal and HR questions to get a better grasp of what pitfalls to avoid and what steps to take in these difficult times to protect your business.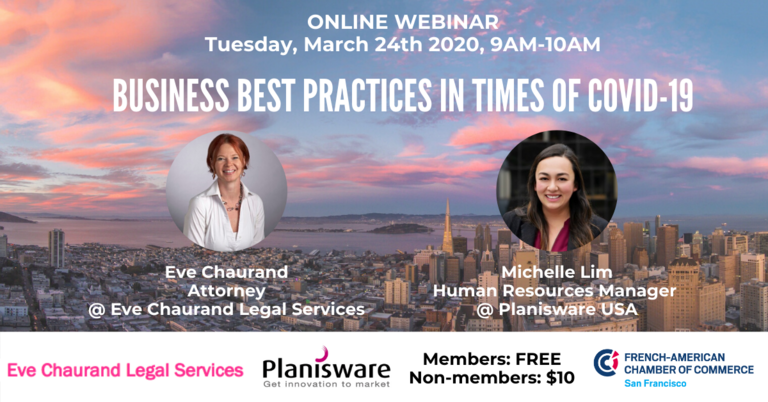 Are you facing legal and HR difficulties with Covid-19?

Sign up for our online workshop on how to avoid missteps and stay on track with your employees and legal requirements in these challenging times. Our two speakers, Eve Chaurand, legal expert and attorney, and Michelle Lim, Human Ressources manager, will walk you through everything you need to know and take time to answer your questions.
With the ongoing Covid-19 crisis, your team may be facing a decrease in business that could have a heavy impact legally and in terms of HR. Our two experts will cover HR/employer liability issues, and can address other non HR issues such as Force Majeur Clauses and business continuity risks.
SPEAKERS
Eve Chaurand - Attorney - Eve Chaurand Legal Services
Upon arriving in San Francisco in 2000, Eve advised Bay Area technology start-ups on corporate, equity and debt financing, IP, employment and transactional matters. Eve currently serves as outside GC to two Bay area tech companies and advises many non-profits in the tech and education sector. Eve is a board member of the French American Chamber of Commerce since 2004 and was its president in 2016 and 2017. She advises and mentors many start-ups and women executives via the Chamber's programs.
Michelle Lim - HR Manager - Planisware
Michelle Lim serves as the Human Resources Manager for Planisware USA, a global provider of Project Portfolio Management software designed for product development and R&D organizations. With over 10 years in the Human Resources field, she brings expertise in recruitment, benefits and compensation, employee relations, compliance and even immigration.