FACCSF celebrates International Women's day with Gabrielle Durana & Servane Demol, both women leaders in education - Facebook LIVE at 2.30pm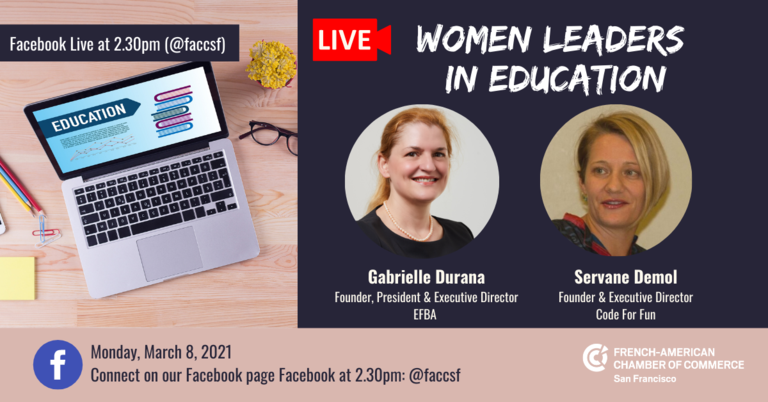 FACCSF celebrates Women's achievement! - FACEBOOK LIVE at 2.30PM
Click here to follow us on Facebook
On the occasion of the International Women's day, the FACCSF will highlight two women leaders in the education: Gabrielle Durana, Founder & Executive Director of EFBA non-profit organization & Servane Demol, Founder & Executive Director Code For Fun. Together we will celebrate their achievement & involvement in education.
Gabrielle Durana, Founder & Executive Director of EFBA non-profit organization
Durana is the founder and president of Education Française of the Bay Area (EFBA). They are high quality, affordable and focus on teaching French language and culture in a play-based strategy that makes learning a language fun and easy. For the past years, Gabrielle & her team have been developing a new model of affordable high quality part-time school to make accessible a bilingual education for the families who cannot afford the tuition of a full-time international school or who live too far from one. After four years volunteering her time, she became in October 2012 the 55th paid employee to run the not for profit organization.
About EFBA
EFBA is a nonprofit organization promoting bilingualism, specifically by teaching French in the San Francisco Bay Area and beyond. EFBA is a unique French school for children ages 5 to 18. Since French is a minority language in the Bay Area, we have created several programs aiming to offer sufficient exposure to the language to help children willingly and effortlessly become bilingual. We offer 3 interdependent programs throughout the year for all ages and levels: affordable after-school French classes, excellent summer and winter programs, and engaging cultural outings. These programs are different in nature but share the same goal: to expose children to the French language and motivate them to learn through play-based methods adapted to their level.
Servane Demol, Founder & Executive Director Code For Fun
Servane is the Founder and Executive Director of Code for Fun a non-profit dedicate to teaching children grades K-12 coding skills as well as providing professional development for educators.
About Code for Fun
Code For Fun is a non-profit organization, located in the San Francisco Bay Area, committed to exposing all students to computer science at an early age. We offer after school programs, camps, in school instruction and teachers training, throughout the San Francisco Bay Area. As a leader in computer science education for young learners, their programs are designed for all students, bridging gender and racial gaps, and encouraging them to consider academic and career paths in the engineering field. They help children connect with the world they live in and unleash their potential in technology.
They focus on bringing quality computer science instruction, using hands on and adapted academic approach while making sure the students learn in a fun way. Code for fun's vision is that all students, grades K-12 develop creative skills through access to innovative computer science education.
To know more about Code for fun
-----------------------------------------------------------
About the International Women Day
International women Day is a global day celebrating the social, economic, cultural and political achievements of women. The day also marks a call to action for accelerating gender parity. Significant activity is witnessed worldwide as groups come together to celebrate women's achievements or rally for women's equality.