Join us for the 2023 annual members meeting & vote for your representatives!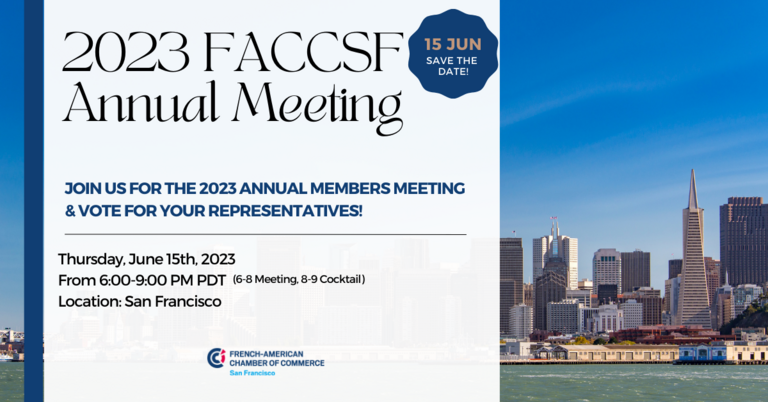 THIS IS A MEMBERS ONLY EVENT
Dear Members,
Take action and make your vote count within the French American Business Community! Register now to our Annual Meeting that will be held on Thursday, June 15th 2023. Discover the candidates up for election, vote and join us to hear all about the activities and results of the FACCSF in 2022, as well as the upcoming projects for 2023.
This election will be followed by an online Apero Wine! A perfect opportunity to network.

ELECTIONS OF BOARD MEMBERS - (Open to corporate members only)
Per our by-laws, a nominating committee including Brittany Bir, Isabelle Marcus and Louis Zandvliet, has reviewed the candidates for the upcoming 2023 elections. Please note the election of the board members' is open to FACCSF Corporate members ONLY.
If you are not a member yet, you can join the FACCSF by clicking here.
Here are their recommendations:
Proposed Board members for election of a 3-year mandate (2023-2026)
RENEW
Lisa Brown, Boisset Collection
Thomas Célérier, EPAM Systems
Christine Hoefliger, Sheppard Mullin Richter & Hampton LLP
Amy de Rouvray, FACCSF
Manon Servouse, Climax Foods
Ludovic Ulrich, Microsoft​​​​​​​
Richard Zolezzi, Odaseva
NEW
Félix Lamolinerie, Verallia USA

*Officers shall be elected by the board, following board elections, June 15th

-------------------

MEETING DETAILS

When?
Thursday, June 15th from 6:00 pm to 9:00 pm

Agenda?
6:00-8:00 pm: Annual Meeting (FOR MEMBERS ONLY)
8:00-9:00 pm: Networking cocktail

Where?
EPAM Systems: 222 Kearny St, San Francisco, CA 94108

Price?
FREE (members only)