The official launch of our new Women Leadership Committee will be on International Women's Day!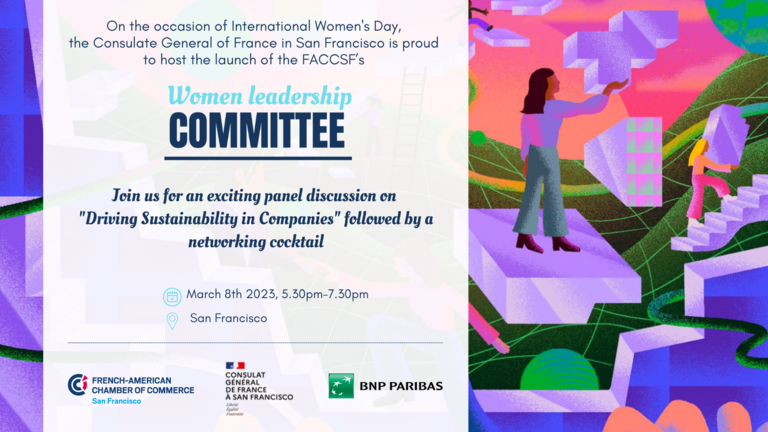 On the occasion of the International Women's Day, the Consul General of France in San Francisco, Frédéric Jung, will host the launch of our Women leadership Committee, co-chaired by Isabelle Marcus and Catherine Lewi, with a panel discussion on "Driving Sustainability in Companies", followed by a networking cocktail.
This event is by invitation only.
Find out more about the panelists and moderator:
Celia Landesberg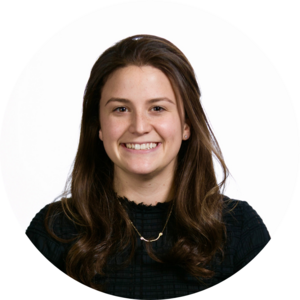 Celia has driven sustainable behavior changes since her earliest days, with experience integrating sustainability into organizations of all types and sizes in both public and private sector applications. At EcoVadis, Celia leads a team enabling the world-leading organizations in North America to move billions of corporate spend towards sustainable companies. Celia also co-leads a community within EcoVadis dedicated to advancing women's careers. Celia is an active writer and speaker in the procurement community sharing ways to make sustainability accessible for all.
Emily Fritze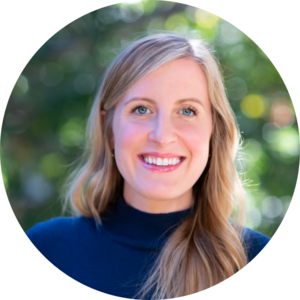 Emily Fritze is a Partner at The Westly Group, a venture fund in Menlo Park where she leads investments in energy, mobility, industrial tech, buildings, and cybersecurity companies. Prior to joining The Westly Group, Emily Fritze was Director at Powerhouse Ventures, a clean energy and mobility venture fund in Oakland, where she helped conceive and raise Powerhouse's seed fund and managed Powerhouse's innovation firm. Prior to Powerhouse, Emily served as the Senior Director in the Obama White House where she managed energy and climate initiatives.

Emily has also served as Special Advisor at the Advanced Research Projects Agency for Energy (ARPA-E) and in policy roles to U.S. Secretary of Energy, Ernest Moniz, at the U.S. Department of Energy and in the U.S. House of Representatives for Congresswoman Gabrielle Giffords. Emily received her undergraduate degree in Political Science at the University of Arizona.
Zoé Bezpalko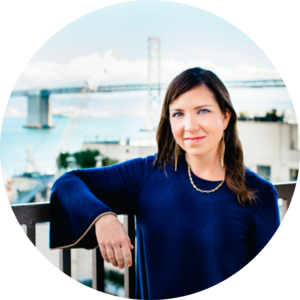 Zoé Bezpalko is an environmental engineer, and designer who strongly believes in the strategic use of technology and design as keys for solving global issues like climate change. At Autodesk she leads the sustainability strategy for the Design & Manufacturing industries where she develops innovative technology to help customers reduce the environmental footprint of their design and make processes, and reach their sustainability goals.
Marie-Elodie Bazy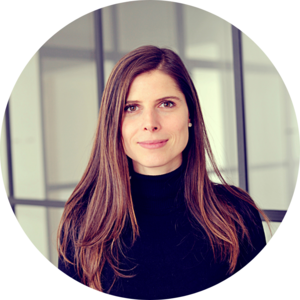 Marie-Elodie Bazy is Director of ESG at NextWorld, a San Francisco-based integrated capital organization. Since 2021, she has been building the firm's ESG strategy and overseeing its implementation both internally and across the investment portfolio.

Before joining NextWorld in 2020, Marie-Elodie was Principal at Kois Invest, an impact finance firm, where she was in charge of structuring innovative finance instruments such a social impact bonds and development impact bonds. Prior to this role, she held different positions in listed French corporations in corporate finance, investor relations and strategic planning.

Marie-Elodie holds a Master of Science in Sustainability Management from Columbia University. She also holds a Master's in Finance from Sciences-Po Paris, as well as a Master's in Management Sciences from Université Paris Dauphine.