Save the date for the Edition 9 of our series: France Vs. Silicon Valley: God & the Silicon Valley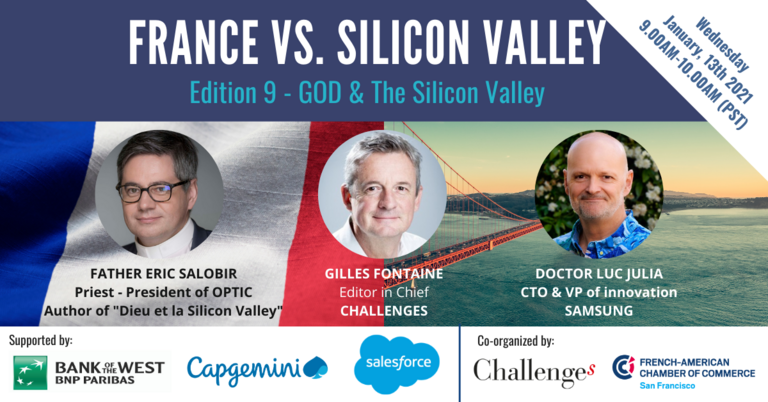 The Silicon Valley from every angle: ethical, cultural and spiritual
After the global health crisis, what is the current situation of the global epicenter of innovation?
Is Silicon Valley still inventing and for what purpose?
How have Facebook and the new American tech giants transformed the ecosystem? For good or bad?
Do the valley's start-ups still want to make the world a better place, or simply to enrich their shareholders?
How can we restore meaning to this allegedly virtuous model?
Join us on January 13th 2021 to hear from two inspiring speakers:
Father Eric Salobir, knows as the "geek priest" & author of "God and Silicon Valley". He is also the Founder of OPTIC Technology, a sort of a Catholic network which promotes research and innovation and various technology fields, in charge of the media and technology for the Dominicans & a teacher of digital communication at Catholic University of Paris.
Doctor Luc Julia is the CTO and Senior Vice President of Innovation for Samsung Electronics, but also bestselling author of the book: "There is no such thing as Artificial Intelligence", holds dozens of patents and is recognized as one of the top 100 most influential French developers in the digital world. He is also recipient of Légion d'Honneur, the highest order of France, and member of its National Academy of Technologies, he holds degrees in Mathematics and Computer Science from theUniversity Pierre et Marie Curie in Paris and earned a Ph.D. in ComputerScience at the Ecole Nationale Supérieure des Télécommunications de Paris.