Episode 6: Ethics for Responsible Tech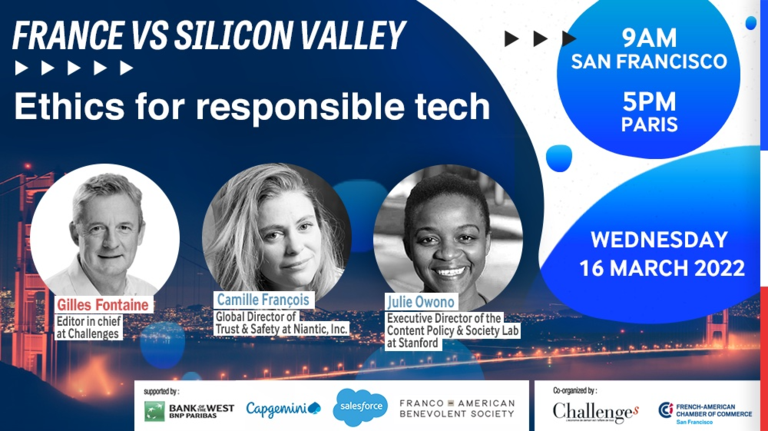 Wednesday, March 16, 2022
9 AM PDT - Live!

Joins us live on Wednesday, March 16, 2022 at 9 AM PDT
and hear from two experts on the topic of Ethics for Responsible Tech:
Julie Owono (Executive Director, Content Policy & Society Lab at Stanford and Executive Director of Internet Sans Frontières) and Camille François (Global Director of Trust & Safety at Niantic)
Link to the Live: www.linkedin.com/company/challenges

Register Now!
Julie Owono
Executive Director of the Content Policy & Society Lab at Stanford and Executive Director of Internet Sans Frontières
Julie Owono is the Executive Director of the Content Policy & Society Lab (CPSL) and a fellow of the Program on Democracy and the Internet (PDI) at Stanford University. She is also the Executive Director of digital rights organization Internet Sans Frontières, one of the inaugural members of the Facebook Oversight Board, and an affiliate at the Berkman Klein Center at Harvard University. She holds a Master's degree in International Law from la Sorbonne University in Paris, and practiced as a lawyer at the Paris Bar.
With a fluency in five languages, a childhood spent in various countries, and an educational background at the Lyçée Français Alexandre Dumas in Moscow, Julie has a unique perspective to understand the challenges and opportunities of a global Internet. This background has shaped her belief that global and multi stakeholder collaborations can be instrumental in the emergence of rights-based content policies and regulations.
Julie is a member of the Global Partnership on AI (GPAI) created by France and Canada, as well as a member of the World Economic Forum's Global Future Council on AI for Humanity, and of the WEF Council on the Connected World. She was also a member of UNESCO's Ad Hoc Expert Group (AHEG), which drafted the first international text on Recommendation on the Ethics of Artificial Intelligence. Julie is a Member of the World Benchmarking Alliance's Expert Committee on Digital Inclusion.
Camille François works on the impacts of technology on society, from cyber conflict and information operations to algorithmic harms.
She currently is the Global Director for Trust & Safety and Policy at Niantic, and an adjunct professor at the Columbia University School of International and Public Affairs (SIPA).
Prior to this, Camille served as the Chief Innovation Officer at Graphika — a cybersecurity company focused on information integrity issues — where she oversaw its investigation, analyses and R&D teams and lead the company's work to detect and mitigate disinformation, media manipulation and harassment. Under her leadership, Graphika helped clients such as Facebook, Google or Pinterest tackle information harms and was recognized by Fast Company as being the 10th most innovative company in the world, and the first in the security industry.
Camille was distinguished by the MIT Tech Review in the prestigious "35 Innovators Under 35" annual award in the "Visionary" category for her work leveraging data science to detect and analyze deceptive campaigns at scale. She was also distinguished by TIME magazine as one of the 100 next most influential people in the world, for her work protecting open societies from the threat of disinformation.
Prior to her work at Graphika, Camille was a Principal Researcher at Google, in the Jigsaw team, an innovation unit at Google that builds technology to address global security challenges and protect vulnerable users. There, she led work to detect disinformation and coordinated harassment campaigns, mitigate biases in machine learning, and tackle violent extremism across Google products.
She has advised governments and parliamentary committees on both sides of the Atlantic on cybersecurity and digital rights, investigated Russian interference in the 2016 Presidential election on behalf of the US Senate Select Intelligence Committee, and served as a special advisor to the Chief Technology Officer of France.
Camille is an affiliate scholar of the Harvard Berkman-Klein Center for Internet and Society, a Fulbright scholar and a PhD Candidate at the French Institute of Geopolitics at Paris 8 University. She holds a masters degree in human rights from the French Institute of Political Sciences (Sciences-Po) and a masters degree in international security from the School of International and Public Affairs (SIPA) at Columbia University.
Thank you to our amazing sponsors for this event!