Join us to know more about our new member: Boris Labourguigne, Co-founder & President at Left Productions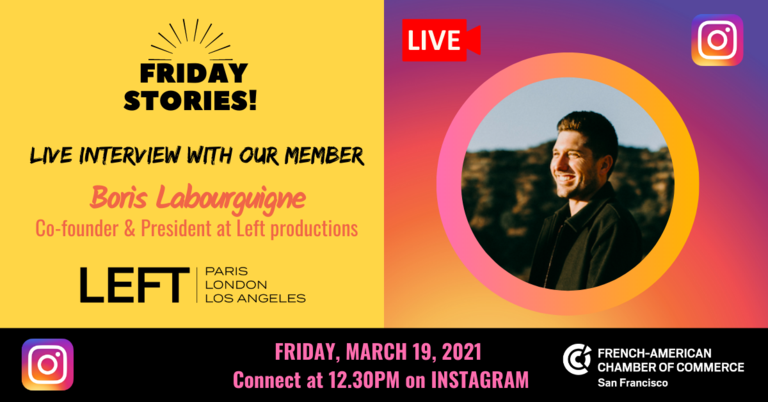 No registration needed - Join us on Instagram on March 19 at 12.30pm
Boris Labourguigne, Co-founder & President at Left Productions
About LEFT PRODUCTIONS
Left Productions is an award-winning full-service production company with offices in Paris, Los Angeles, and London. Their work spans from Corporate videos to Commercial campaigns, Live Performances to Music Videos, and just about everything in between!
Since its inception in 2012, Left has strived to develop innovative production methods while building an amazing network of directors, photographers, animators, and creatives from across the world. With the support of our in-house producers, talented art department, and post-production staff we're able to oversee all aspects of production, ensuring efficient turnarounds, and more importantly, quality, in all that we do.
Their focus has always been to revolutionize the video production industry. Take right.video, a creative video search engine they developed that features curated content by top industry professionals. It also acts as an all-encompassing tool for agencies, clients, producers, and directors to connect, seek references, and organize the best-of-the-best content to hone their craft‍

‍But this year Left has once again expanded their creative capabilities; this time transitioning into the film and television world with their new studio, Epique Studio, a unique comprehensive hub for both film sets and production services.

They have created Epique Studio in partnership with Puy du Fou, to transform their park into a massive production facility complete with 55 hectares (136 acres) of sets ranging from the roman empire to today's time, and services including housing facilities, production offices, onsite catering, and even an expansive network of background talents and picture animals.