Join us for a Live on Instagram with Emmanuel Texier, Head of School at Lycée Français de San Francisco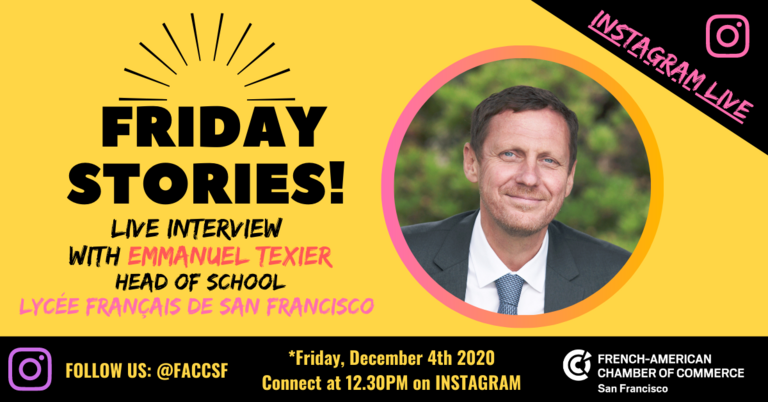 The Live interview will take place on Friday, December 4th at 12.30pm. Meet us on our Instagram Account.
Emmanuel Texier, Head of School • Proviseur
Born in Paris and raised in a multicultural French-European background in several parts of mainland France and its overseas territories, Emmanuel TEXIER first studies English Civilization, Language and Literature at the University of Paris IV Sorbonne, before completing his studies with a Bachelor of Linguistic Engineering (Computer science applied to linguistic) at the Institut National des Langues Orientales in Paris.
After ten years working as a teacher, he becomes a Head of School in 2008 and manages several schools in France before moving abroad. He works on French Chinese educational cooperation in a Beijing University and later moves to Australia where he is the Head of School of the Lycée franco-australien in Canberra for five years until 2017.
Lycée Francais de San Francisco
Le Lycée Français de San Francisco was founded in 1967 upon principles of internationalism and inclusivity. Our unique program, accredited by the French Ministry of Education, helps all of our preschool through 12th grade students build confidence and adaptability in their ever-changing environment.
By emphasizing intellectual curiosity, critical thinking and integrity, the Lycée Français de San Francisco prepares students to realize their potential and positively impact their world.