Join us to know more about our new member: Nicolas Delaroque, Executive Chef / Co-Owner at Maison Nico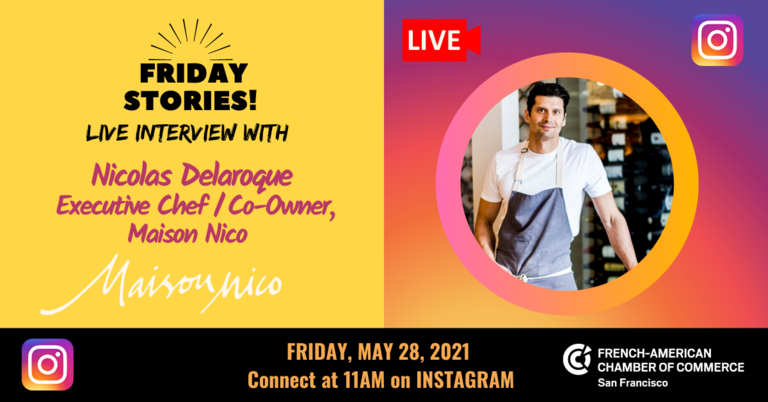 No registration needed - Join us on Instagram on May 28 at 11AM
About Nicolas Delaroque, Executive Chef / Co-Owner at MAISON NICO
Nicolas Delaroque is a Michelin-starred, classically trained French chef and co-own- er of Maison Nico, a modern épicerie and café specializing in the traditional French culinary art of pâté en croûte (pâté in a pastry crust), brioche feuilletée (Flaky, caramelized multi-layered brioche), viennoiserie, sophisticated French pâtés and terrines, wines and other imported artisanal items, in San Francisco's historic Jackson Square.
With roots in Normandy, France, Nicolas was raised in Paris, where he completed his culinary training and restaurant management degree. At the age of 23, Nicolas left France to travel and work in various countries throughout the world, learning English along the way.
Nicolas and his wife, Andrea, opened their first restaurant, Nico, in November 2013. The restaurant quickly earned critical acclaim, including a rave review from the San Francisco Chronicle and a coveted place on the Chronicle's Top 100 Restaurants in its first year of operation and each year thereafter. Nicolas was named a "Rising Star Chef" by Robb Report magazine and in 2015, Nico received its first Michelin star, which it kept until the restaurant converted in January 2020 to Gap Year at Nico, an experimental tasting menu restaurant that was cut short due to the COVID-19 pandemic.
In fall 2020, Nicolas, Andrea, and business partner Paul Einbund (sommelier and restaurateur, The Morris) realized their joint dream of opening an épicerie in the Bay Area, and they converted Gap Year at Nico to Maison Nico. Born out of the pandemic, Maison Nico offers sweet and savory French and Parisian-style dishes, imported artisanal ingredients, wine and more.
"I have wanted to open an épicerie for years and bring a concept to San Francisco that felt quintessentially Parisian and captured the charm of the little shops found in all the nooks and crannies of Paris. The fact that Paul felt the same way was fortuitous," says chef Nicolas. "I also love the flexibility: the ability to provide a spot for both sweet and savory items where people can pop in at anytime of day and enjoy a bite of something tasty and a coffee, buy a bottle of wine, or pick up something for later. It's versatile and allows us to be creative in what we offer."
"My wife, Vanessa, and I have long been obsessed with épiceries," says Paul. "With- out being able to travel overseas for the foreseeable future, we thought we'd do our best to bring this experience to the United States. Wine is an integral part of the
épicerie experience and everything we are serving at Maison Nico is designed to be consumed with something delicious."
At Maison Nico, Nicolas' cuisine reflects his love of cooking, precision and imagination while honoring classic French culinary traditions. The inspiration for his menu derives from a mixture of sources, including his travels, French heritage, farmers' markets, and the bounty of each changing season. The menu uses products from local California farmers, ranchers, fishermen and purveyors as well as artisanal products imported from France, including cornichons, Provencal olive oil and spice blends.