Join us for an exclusive interview with our new member: the Santa Rosa French-American Charter School on January 29th 2021- FACEBOOK LIVE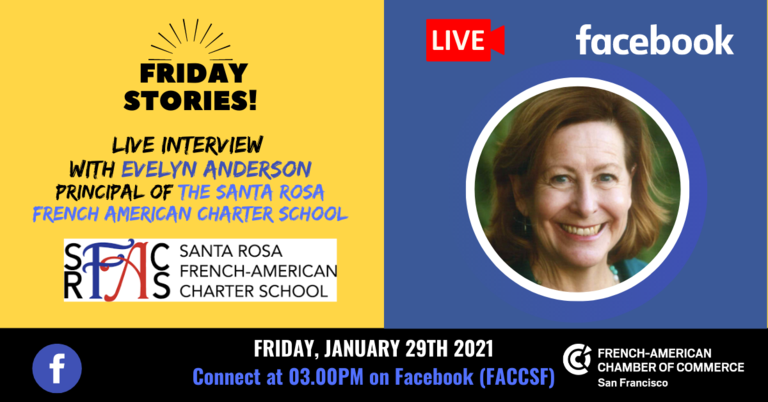 Evelyn Anderson - Principal of the Santa Rosa French-American Charter School
Evelyn Anderson, principal of the Santa Rosa French-American Charter School, is a Bay Area native. Evelyn has bachelor degrees in Pre-Law and French Language and Literature from the University of the Pacific and studied in Nantes through the Institute of European Studies. She did her teaching internship in St. Herblain, France. She has an M.B.A. in international management from the Monterey Institute of International Studies where she also studied Mandarin Chinese. Evelyn worked in trade and business development with Chinese entities. As a board member of the California Association for the Gifted, Evelyn was an advocate for gifted and talented students. She recently served on the Santa Rosa City Schools Board of Education. Evelyn is married to Keith Anderson, an engineer at Keysight Technologies, and has two children attending universities.
Santa Rosa French-American Charter School
Santa Rosa French-American Charter School is a Dependent Charter School in the Santa Rosa City Schools District. SRFACS is a public French Immersion school and it is the only accredited public school of its kind in California. Our accreditation is through L'Agence pour l'Enseignement Français à l'Étranger/Agency for French Education Abroad (AEFE). This accreditation enables students to access any French educational system worldwide. SRFACS is certified to administer the Diplôme d'Études en Langue Française (DELF). SRFACS is the first public school to provide this unique education proudly offering equitable access to all students.
Students at SRFACS excel through a harmonization between the French Ministry of Educational Standards and the California Common Core State Standards. Mastery of the French and English language will give students the cultural confidence needed to become global citizens. Our teachers bring their culture, language, and expertise along with their French teaching credential. Our students' cultural confidence is infused by our many native French-speaking teachers and through various subject content.
Kicking-off enrollment period on Jan. 12 - Feb. 9.