Join us to celebrate the holidays in your best red & white outfit, network and enjoy delicious bites and beverages at the Residence de France!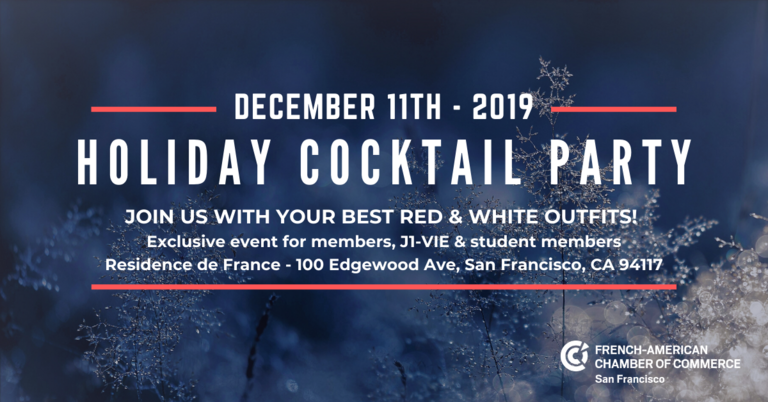 The Consul General of France, Emmanuel Lebrun-Damiens, and the French-American Chamber of Commerce of San Francisco are delighted to invite you to an exclusive Holiday Cocktail Party at the Residence de France.

Gathering the French-American business community on December 11th, this will be an opportunity to beautifully celebrate the end of 2019 while growing your network and meeting FACCSF members, team and board members! On this occasion, you will meet Antoine Villata, President of the Board and CEO of Planisware North America, and Ludovic Ulrich, Vice-President of the Board and Partner at Silicon Foundry, Radia Oumer, Managing Director & Head of Business Development at Bank of The West and many more!

Thank you to Emmanuel Lebrun-Damiens, Consul General of France, for generously hosting us!
Enjoy our member price with your guest(s)!
As a member of the FACCSF, use your member privilege and celebrate the holidays with a non-member guest, coworker, partner or member of your family! Check your member category below and purchase your tickets at the member price accordingly. Make sure you get them before they run out!

- Individual members: up to 2 tickets
- Entrepreneur members: up to 4 tickets
- Business members: up to 6 tickets
- Counselor members: up to 8 tickets
- Benefactor members: up to 10 tickets

When: Wednesday, December 11th, 6PM-8:30PM
Where: Residence de France, 100 Edgewood Ave, San Francisco, CA 94117
What: A networking cocktail with appetizers and beverages served
Dress code: Red & White party! Come with your most festive outfit in red and white...
Price: $25 for members
$15 for J-1 and VIE hosted by member companies
$10 for students of member schools (EDHEC, INSEAD, INSEEC) - proof required
Be sure to bring your business cards! To network, but also to enter the lucky draw to win Ubisoft games for Nintendo Switch, Playstation 4 and Xbox One!

We look forward to seeing you there!
Your FACCSF team