Join our Friday Stories with Antoine Petigny-Samuelson, Founder, Grape Vista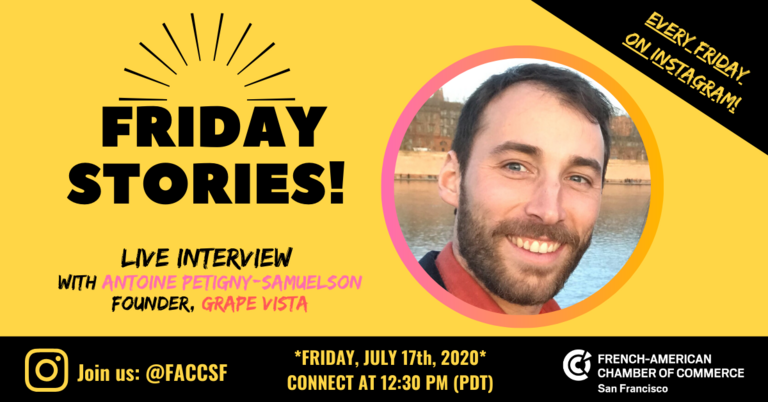 Each Friday, hear a story from one of our members, discover their news and projects!
JOIN us on Instagram for 10 minutes live interview with our special guest Antoine Petigny-Samuelson, Founder, Grape Vista.
>>> How to participate? <<<
1/ Follow us on instagram: @faccsf
2/ Connect at 12:30 PM and join the LIVE
Grape Vista allows one to live follow time spent by each vineyard employee or team on each vineyard operation. This mobile app differentiates itself from the other tools available on the market, thanks to its incedibly user friendly interface. No manual data entry. With 3-4 clicks the operator can start recording their task. The web platform associated with the app allows the foreman, vineyard manager, or general manager to access all the information regarding the vineyard operations of one or multiple estates at the end of the day.

This app will enable:

-> Easy tracking of the hours/acre for each vineyard operation. This info collected live are critical to budget tracking in the vineyard. Many hours of data collection and entry are saved with this app.

-> hourly employees have direct access on their phone to a summary of their day, week, month, etc. Thus, when pay day arrives, the office processing is greatly simplified as the data collected can be easily extracted from Grape Vista and transferred to your payroll software.
The app develoment is almost complete and Grape Vista will soon be available on Apple and Android. For the release, a 30 day free trial will be offered.