Get to know more about the beautiful Burgundy wine region and taste the 2018 Red Collection with Amandine Sahuquet.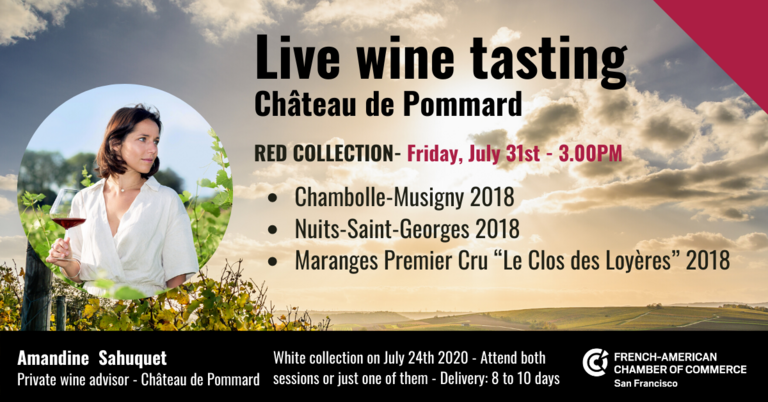 Session 2: RED COLLECTION
Get to know more about the beautiful Burgundy wine region and taste incredible wines from Château de Pommard. For this second session, Amandine Sahuquet will present three wines from the 2018 Red Collection.
1/ Learn about the Burgundy Wine region
How Terroir and Climats impact the quality of wine?
How winemaking influences the taste of wine?
How to identify the qualities of a wine and its aging potential?
How to pair wine with your food Key element of wine business?
2/ Taste white wines from Château de Pommard (187.59 $ shipping included):
Chambolle-Musigny 2018
Nuits-Saint-Georges 2018
Maranges Premier Cru "Le Clos des Loyères" 2018
Order the red collection (Delivery: 8 to 10 days)
This educational wine tasting is free to attend. However, if you want to taste the wine during the webinar with Amandine, you need to order* the three-bottle of the Red Collection by contacting Château de Pommard by email.
-----------------
About Amandine Sahuquet
Amandine is the Private Wine Advisor for the Northwest United States. She is a sommelier, studies at the wine University in France. She holds the WSET Level 3 certification, and she is currently studying for Level 4. She now lives in Burgundy. She is passionate about discovering new cultures, sharing and learning from others around the world.
About Château de Pommard
Founded in 1726, Château de Pommard combines three hundred years of savoir-faire and the innovative vision of Famille Carabello-Baum for the future. Wine lovers and critics agree the conversion to biodynamic viticulture is producing honest, energetic wines infused with an unmistakable sense of place while preserving the planet where we all live. Every year, consumers and professionals from more than 80 countries around the world visit Château de Pommard to learn about the world of wine from Wine and Spirit Education Trust (WSET) professionals and taste the purest expressions of Chardonnay and Pinot Noir from villages along the Route des Grands Crus. From the grape to the glass, guests experience Clos Marey-Monge, a geological marvel, and home to seven distinct clay and limestone-rich plots, now protected as one of the world heritage Climats of Burgundy by UNESCO.