"Estate Planning and Retirement Strategy"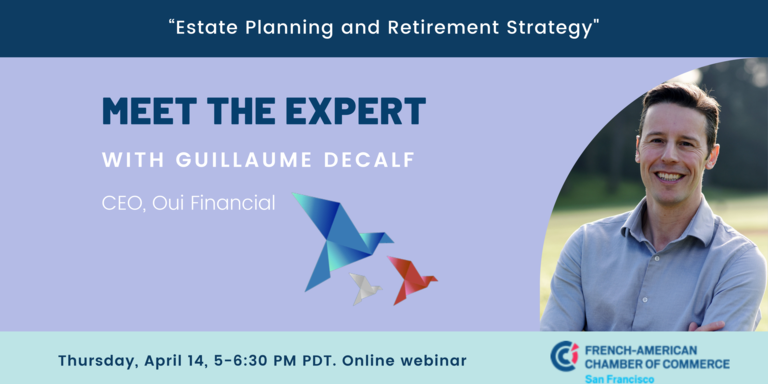 Every second Thursday, the FACCSF hosts a session with one of its expert members.
Estate Planning and Retirement Strategy
Questions about estate planning? Preparing for the future? Retirement strategy? Guillaume is going to talk about high-level estate planning, covering topics ranging from trusts, wills, medical directives, and power of attorney. After, he'll answer questions you might have about retirement strategies for you (and your employees), including Solo 401k, Small Businesses 401k, IRA and Roth IRA. Register now to get your questions addressed!
With a business school diploma in hand, Guillaume began his career in France in 2003 as a consultant specializing in process analysis and optimization. In 2010, he left his job to start a career in San Francisco. He's since worked in different technology companies, including Amazon and Fitbit.
In the Bay, he discovered a world very different from France. A world where the government does not cover health insurance, retirement, and education. Based on this observation, he did in-depth research on the subject to optimize his financial situation as much as possible, and then that of his compatriots in the same situation. His many successes in this area quickly brought him new demands outside his circle of friends.
That being said, he got his license (Series 65) and launched Oui Financial, an independent financial planning and investment firm, in 2018. Guillaume also has the GFP Designation (cross-border financial planning) and the certificate in blockchain and digital assets (RIADAC).