Take action and make your vote count within the French American Business Community! Register now to our Online Annual Meeting. (Members only)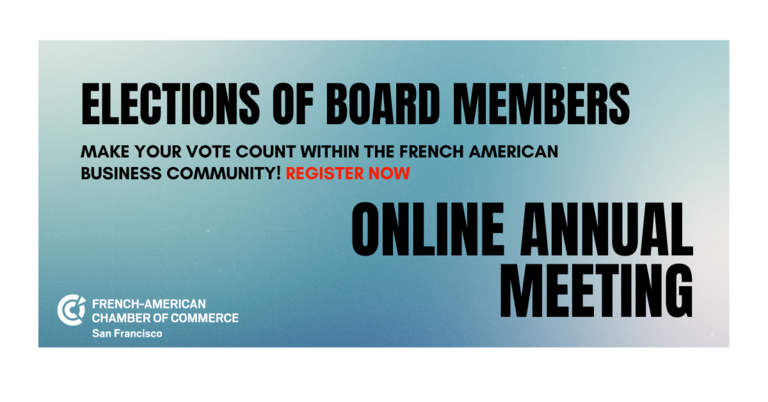 [MEMBERS ONLY]
Dear Members,
Take action and make your vote count within the French American Business Community! Register now to our Online Annual Meeting that will be held on Thursday, September 10th 2020. Discover the candidates, vote and join us to hear all about the activities and results of the FACCSF in 2019, as well as the upcoming projects for 2020.
ELECTIONS OF BOARD MEMBERS - (Open to corporate members only)
Per our by-laws, a nominating committee including Antoine Villata, Chairman of the Committee, Eve Chaurand and Alexandre Rémy, has reviewed the candidates for the upcoming 2020 elections. Please note the election of the board members' is open to FACCSF Corporate members ONLY and will be open few days before the d-day.
If you are not a member yet, you can join the FACCSF by clicking here.
Here are their recommendations:
Proposed Board members for election of a 3-year mandate (2020-2023)

NEW: Discover their bios below
Lisa N. Brown - new
Amy de Rouvray - new
Guillaume Lardeux - new
Alexandre Marian - new
Manon Servouse - new
Mélanie Thomas - new
RENEW
Thomas Celerier - Renew
Christine Hoefliger - Renew
Jean-Noël Fourmeaux - Renew
Jean-Marc Torre - Renew
Ludovic Ulrich - Renew
Richard Zolezzi - Renew
Proposed officers for a 1-year mandate*:
President: François Gros
Co-President: Ludovic Ulrich
Vice President: Johanna Assous
Vice President: Richard Zolezzi
Vice President & Secretary: Louis Zandvliet
Treasurer: Raphaëlle Guillaumet
*Officers shall be elected by the board, following board elections, September 10th 2020
Info for online vote will be sent very soon - Stay tuned!