(By Invitation ONLY) - Panel discussion with Eric Benhamou & Cindy Padnos + Wine tasting by Xavier Barlier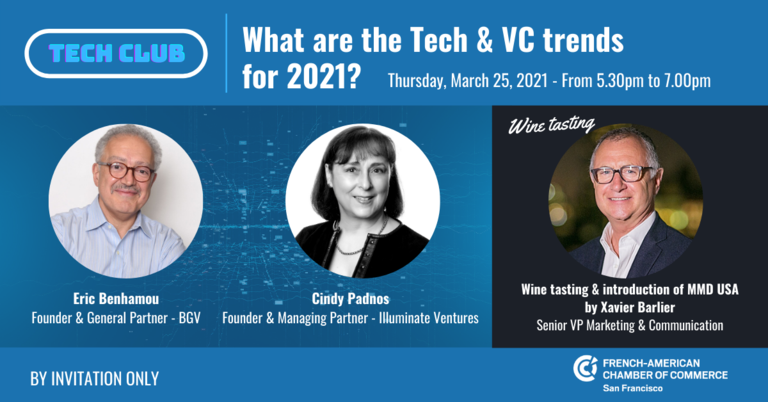 (By Invitation Only)
This online event is divided in two parts:
Part 1: Introduction & wine tasting by Xavier Barlier
Part 2: A panel discussion with our two speakers: Eric Benhamou, Founder & General Partner at BGV and Cindy Padnos, Founder & Managing Partner at Illuminate Ventures, moderated by Olivier Delerm, Growth Accelerator and Investment Partner at FUND(AI+X)
Eric Benhamou, Founder & General Partner at BGV
Eric Benhamou has over 4 decades of experience in the IT industry, including 16 years of active venture capital experience. He founded Benhamou Global Ventures (BGV) in 2003 and made active investments in early stage information technology Silicon Valley firms focused on global enterprise and telecommunications markets. Eric currently serves on the boards of Grid Dynamics, Ayehu, Totango, Secret Double Octopus and 6d bytes, portfolio companies of BGV's fund II and III. Eric Benhamou has extensive corporate governance experience, having served on more than 25 corporate boards, including 10 publicly traded companies such as 3Com, Palm, Netscape, Legato Real Networks and Cypress Semiconductors (CY). He continues to serve on the boards of Silicon Valley Bank (SVBFG), Grid Dynamics (GDYN) and of Finjan Holdings (FNJN).
Through his career, Eric Benhamou participated in 8 IPO's and 40 M&A's. Prior to his venture capital career, Eric Benhamou built and operated several IT companies and experienced all the stages of growth from start-up to Global Fortune 500. He is also active in several non-profit organizations, chairs the Israel Venture Network and the American Friends of Arts et Métiers. Eric Benhamou has an MS from Stanford University's School of Engineering, a Diplôme d'Ingénieur and a Doctorate from Ecole Nationale Supérieure d'Arts et Métiers, Paris. He also holds several honorary doctorates and international awards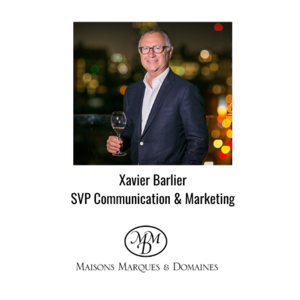 Xavier Barlier, Senior VP Marketing and Communication at Maisons Marques & Domaines
Xavier Barlier joined MMD USA in 2001 after spending the previous four years in the position of Director of Corporate Alliances and Co-branded Marketing of Disneyland Paris. He was previously with the French automotive group Renault and Champagne Moët & Chandon. Xavier is Board member and a Past Chair of the Wine Market Council and a contributor to the Marketing Leadership research program of Kellogg School of Management at Northwestern University. He is a Chevalier in the Ordre des Côteaux de Champagne and a Cavaleiro in the Confraria do Vinho do Porto.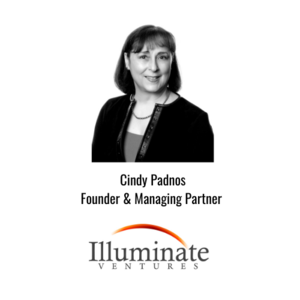 Cindy Padnos, Founder and Managing Partner of Illuminate Ventures
Cindy Padnos is the Founder and Managing Partner of Illuminate Ventures, an early-stage VC firm that invests exclusively in enterprise software start-ups. Illuminate's portfolio companies have gained numerous successful exists including acquisitions by tech titans such as Autodesk, Cloudera, New Relic and Oracle and IPOs for companies like Xactly. Cindy has helped to accelerate emerging technology companies for over 25 years – first as a serial entrepreneur including as founder and CEO of Vivant which is now part of Oracle and CMO for Scopus Technology taking it to its IPO. Cindy serves on several private company boards and on the Business Board of Advisors for Carnegie Mellon University's Tepper School of Business. Cindy is the author of a series of whitepapers that focus on encouraging diversity in the tech sector. Her first paper, a decade ago, is recognized as among the first to highlight the untapped opportunity represented by women entrepreneurs and led to her being names by the New York Times as one of the most influential women in Silicon Valley.