What Do The Next Four Years Hold for U.S. International Trade Regulation?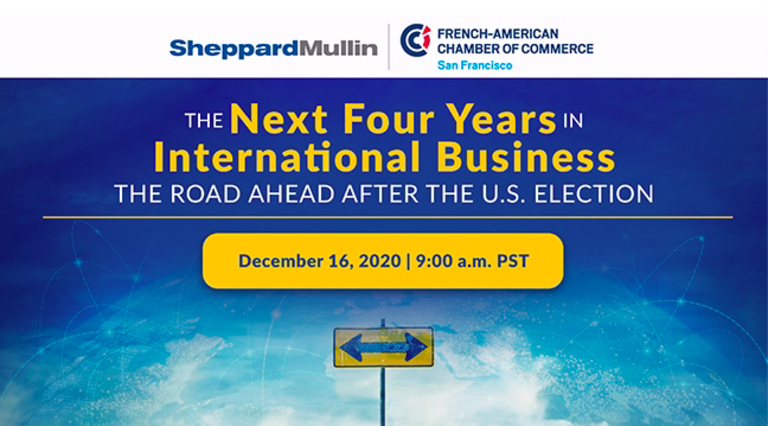 An event co-organized by the FACCSF & SheppardMullin
The road ahead after the U.S. election
U.S. regulations often reach beyond the boundaries of the United States and affect transactions around the world. The presidential election will either bring a new administration to the White House, or reinstall the same President, unfettered by reelection considerations. In either case, the election outcome will drive major changes to your business and that of your customers and partners.
To help you anticipate forthcoming shifts in the international system, we offer a brief and engaging presentation on how the election may change the shape of the world in the coming four years. The discussion will focus on U.S. regulations that affect international business and how those regulations may shift in the coming four years. However, there will be open time for your questions and discussion.
Reid Whitten, Partner at SheppardMullin
Reid Whitten works with clients around the world to plan, prepare and succeed in global transactions. He focuses on his clients' cross-border investments, particularly in the technology and aerospace sectors, helping clients navigate the international trade regulations that could disrupt their deals.
Reid is the Managing Partner of Sheppard Mullin's London office, practicing in international trade regulations and investigations. He shares his time serving clients out of the Washington, D.C. office. He is also Leader of the Sheppard Mullin CFIUS Team.
Areas of Practice
In the areas of economic sanctions, export and defense exports, CFIUS, anti-corruption and tariffs, Reid supports clients in detecting and addressing potential compliance issues as well as conducting investigations and defending against enforcement actions. He also advises on U.S. anti-dumping, anti-money laundering and anti-boycott regulations.
Reid is a thought leader on cross-border business regulations. He lectures as an Adjunct Professor of Law at the New College of the Humanities in London, at the Université Catholique de Lille, in France and at Wake Forest University in the U.S., where he teaches courses on the law of international business. Reid is also a member of Chatham House, the UK's Royal Institute of International Affairs.
Reid writes and comments regularly and is called on by television news channels, international newspapers and trade publications to provide analysis on the latest changes to cross-border transactional regulations. He is the lead author and editor of The CFIUS Book and is the head of the firm's CFIUS Team. In addition, Reid conducts seminars on regulatory updates to industry groups in the U.S., France, Belgium, Spain and the UK.
Reid is fluent in French.