Join the largest online transatlantic networking event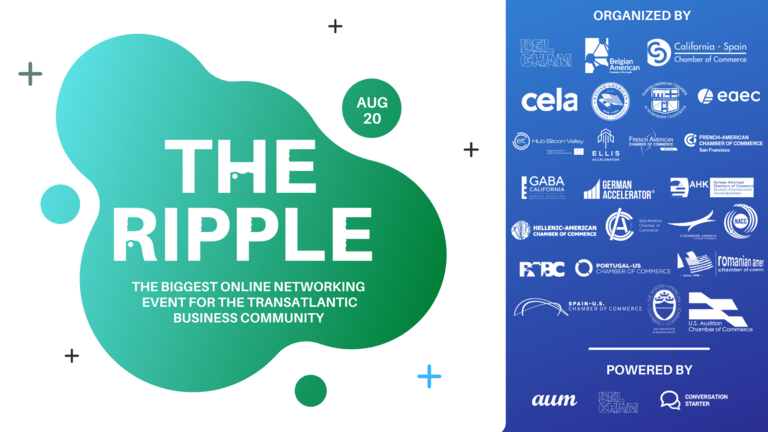 About this Event
THE RIPPLE is a one-of-a-kind initiative by the transatlantic business community to tackle the growing demand for meaningful online connectivity.
86% of participants of the first edition said they would follow up on their meetings from The Ripple. The future of virtual connectivity is here - use it to boost your business!!
Join the second edition of our online networking event for business leaders and founders on August 20. Here is how it works:
Register today. It is free.
After registration, you will receive a link to Conversation Starter where you can create your profile. You will be asked to highlight your expertise (#offer) or share requests (#ask) for collaboration, as well as flag topics that you would like to connect on.
In the days leading up to the event, browse profiles and send invitations for 12-minute video calls. The tool is equipped with a recommendation engine and smart scheduling features. Meeting invites can be sent or accepted with a simple click!
You'll connect with your new contacts in the tool -nothing to install- for the duration of the event, enabling up to 12 meetings.
About Conversation Starter: If LinkedIn, Zoom and Calendly had a baby they would call it Conversation Starter.https://www.conversationstarter.net
When you register, you allow us to share your email with Conversation Starter for the purpose of inviting to the tool and receiving event updates.