Jade Fiducial
Giulia Franchi, Branch Manager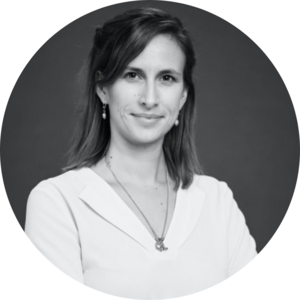 Before talking about the company, could you please introduce yourself? What is your background?
My name is Giulia Franchi, I am Branch Manager of Jade Fiducial San Francisco since November 2022.
I completed my schooling in the South of France, where I was born and raised. I graduated in Audit and Accounting and started my career as an Internal Auditor in Paris. I did my apprenticeship in Société Générale, and carried on in this field for six years, for BNP Paribas first and then for Peugeot Citroen Automobile. I worked in the financial branch of the Peugeot Citroen Group for nine years; I went from Internal Auditor to Head of Consolidation and Regulatory Reporting. After more than a decade in the corporate world, I decided to break into consulting and joined Deloitte Consulting during the pandemic.
Since I started working, I wanted to move abroad and embrace the expatriation journey. I've always worked in an international environment, and I used to travel a lot, so when considering another place to live, there was no doubt it had to be the USA.

Could you tell us about Jade Fiducial in a few words?
Jade Fiducial is a trusted and experienced multi-skills advisory and tax services company for French businesses and individuals seeking to secure and enhance their American journey.

You service both Individuals and Companies, can you detail the type of expertise you offer?
Every client is different.
For Companies, it's "a la carte." We are very flexible and adapt our offer to the client's needs. There are a lot of start-ups in the Bay area, so we usually start with domiciliation and bookkeeping; then, as the company goes along, we'll add payroll management and various reporting while the corporate tax return becomes more and more complex (sales taxes, multi states scenario, etc.). For other clients, we'll focus on tax optimization and tax reporting.
For individuals, we produce income tax returns with a proper consideration of their French ties (pensions, renting income, assurance vie, PER,…).

You have a dual French-American expertise. Apart from the obvious language benefit for some of our members, what advantages does it bring to the table?
The language benefit is not limited to the convenience of communication. From a tax perspective, a French "assurance vie" is not like a US Life Insurance, and a French PER (Plan Epargne Retraite) is not like a 401K: the literal translation could be misleading, and you need to have a combined FR-US knowledge to fathom the differences properly. Furthermore, many persons are entitled to tax advantages (such as treaty applications and foreign tax credits) and do not benefit from them because they do not know their existence. The tax book is pretty thick; despite knowing where to look, you must also know what you're looking for.

This year, the company celebrates its 20th anniversary! What have you planned?
Celebrating the 20th anniversary of Jade Fiducial is significant because it marks a milestone in the organization's history, and I am excited to be part of it. It will be a 6-months long celebration to acknowledge the contributions of our employees and express gratitude to our customers and partners who have supported its growth and success.
We will launch this celebration with the team with an "Apéro" very soon! In San Francisco, we intend to blow out the candles during a fancy gathering on a rooftop lounge. We will unveil an essential program; to know more about it, you must stay tuned in June.

The Jade Fiducial management team is equally composed of women and men. Is equality and diversity a big part of your DNA?
Definitely, and at every level: people come from various places, have different backgrounds, and show different personalities. Jade nurtures diversity, and it's very enlightening.

You are a great supporter of the French community, in San Francisco as well as throughout the US. How do you contribute and why?
Helping French companies and individuals is an inherent part of the company's identity. We sponsor and partner with many cross-border charities and economic agencies. We collaborate as much as possible and organize educational webinars and conferences.
We've experienced expatriation (both at individual and entrepreneurship levels), so we know how confusing it can sometimes be. It is important to stay supportive and provide guidance.
In addition, Jade has always been keen to hire French people looking for job opportunities in the USA. It's a fantastic experience for me, and I keep encouraging others to take the plunge!