Connect and enhance your business with our new app!
CCIFI Connect - discover our new app!
Connect with fellow members, register for events, explore exclusive insights and privileges - now directly from your pocket with the CCIFI Connect App!

Our mobile application, reserved exclusively for members of the French CCIs abroad, has been designed to:
Connect with representatives from 33,000 fellow member companies of both the French American Chamber of Commerce in San Francisco (FACCSF) and the international French Chamber network
Make the most out of our events programme: browse and register for upcoming events
Start a conversation with your Committees' members: share your thoughts and insights in the dedicated chat
Access exclusive member privileges
---
How to log into the app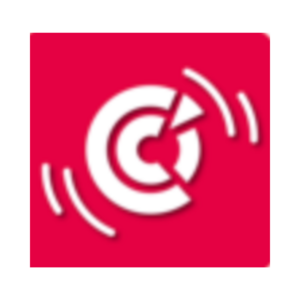 1. Download the CCIFI Connect app for iPhone and Android
2. Select your Chamber
3. Log in with the same email address and password you use for your profile on the FACCSF website. If you don't remember it, please contact us.
4. Make sure to update the information on your profile as other members will use this network to connect! Add your picture, languages, industry, interests and skills.
How to use the network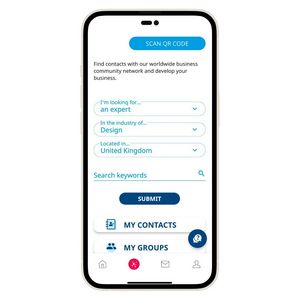 1. Click on the icon next to the home button
2. You can search for contacts, companies, and specific keywords
3. You can search by industry and by country
4. You can save contacts and find them in the "My contacts" section. You can see who has added you in the "They follow you" section.
Interact with your Committee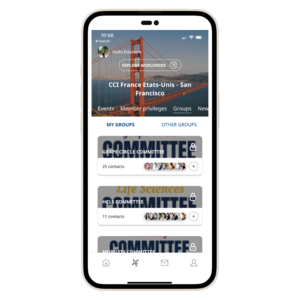 1. Click on the "Groups" section
2. The Committees you are part of will appear in "My groups"
2. Click on your Committee - you will have access to the list of fellow members of the Committee and a shared chat
3. Click on the pen to send a message to the group
4. You can browse the other existing Committees and click "JOIN THIS GROUP" to request access if you're interested!
Browse and register to our events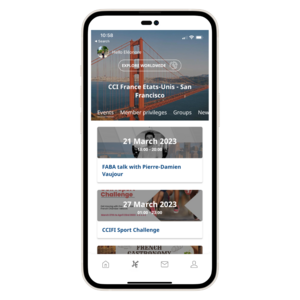 1. Go to the "Events" section
2. Click on the event you're interested in
3. You will have access to the details of the event (date, time, location)
4. You can register to the event directly on the app
Enjoy special member offers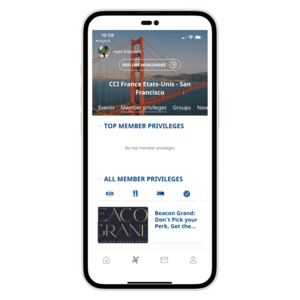 1. Go to the "Member privileges" section
2. Click on the offer you're interested in
3. Read the details of the offer and how to access it carefully