Join our Sustainability Committee for a discussion on how recycling and composting is a simple yet powerful act to fight climate change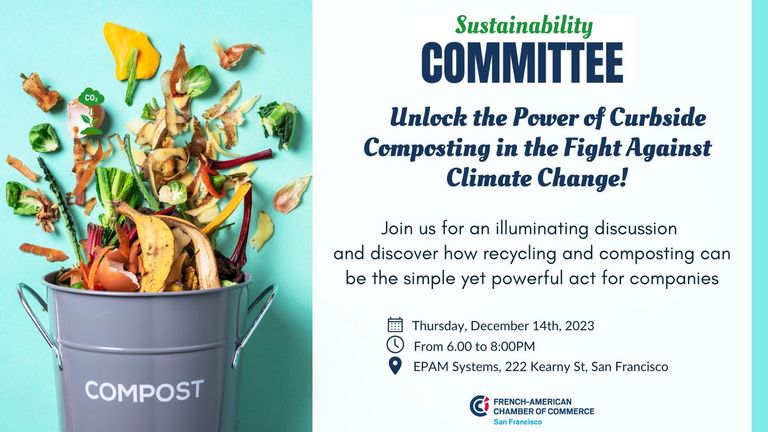 At the last Sustainability Committee event in September, John Wick of the Marin Carbon Project presented in-depth research showing that applying compost to grow grasslands has the potential to sequester tremendous amounts of carbon in the soil.

On December 14, Robert Reed of Recology, the San Francisco-based recycling and composting collection company, will show how cities can turn food scraps, sticks, and leaves – one-third of their trash – into finished compost.

San Francisco pioneered curbside food scrap collection for composting in North America in 1996. The finished compost goes onto local farms and vineyards and helps them grow more healthy food and save water.

The success of San Francisco's curbside composting collection helped inspire a change in state law. Now all 400 cities and 58 counties in California must reduce the amount of compostable material they send to landfill by 75 percent. Now municipalities up and down the state are replicating San Francisco's green bin program.

Los Angeles made curbside food scrap collection for composting mandatory in January. New York City started rolling out citywide food scrap collection in February. In total more than 300 cities and universities have followed San Francisco's lead and implemented food scrap collection programs for composting.

Robert is Recology's spokesman and a strong advocate for curbside composting. His presentation will show:
How residents and businesses participate in this program.
How Recology turns food scraps into finished compost.
How applying compost switches on the lifeweb in topsoil.
And the main environmental and economic benefits achieved through this program.

Collin Lilly, of Maxville Winery in St. Helena, will join the conversation to share practical examples of the benefits of compost for vines and wines.

Ref: How San Francisco cracked the urban composting code, ReasonsToBeCheerful.world, May 20, 2022
-------------------
Thank you to our member EPAM Systemsfor generously hosting us on this occasion!
Robert Reed
Public Relations Manager at Recology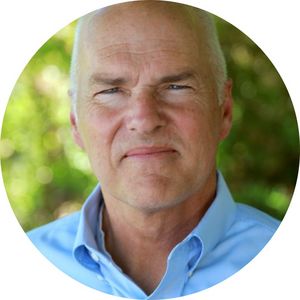 Robert Reed joined Recology, the employee-owned recycling, curbside composting, and trash collection company in 1993 and helps lead outreach and education programs that aim to inspire people to fully participate in curbside recycling and composting collection programs.
Together, Recology and the City of San Francisco pioneered urban collection of food scraps for composting in North America in 1996. The environmental benefits of instituting curbside composting collection are numerous and significant. Robert wrote the 12 Reasons to Compost, which is used nationally.
SanFrancisco's curbside composting collection program has kept more than 2 million tons of compostable material out of the landfill and instead turn that tonnage into high-quality compost that helps improve soil health on local farms including many top vineyards in Rutherford.
The success of San Francisco's curbside composting program helped inspire SB 1383, a law requiring all cities, counties, and special districts in California to keep compostable materials out of landfills. For most municipalities the solution will be replicating San Francisco's curbside composting collection program.
Robert rarely takes a vacation, but when he does he volunteers for Zero Waste France. Robert has made this presentation on their behalf in 35 cities in France.
Collin Lilly
Associate Winemaker at Maxville Winery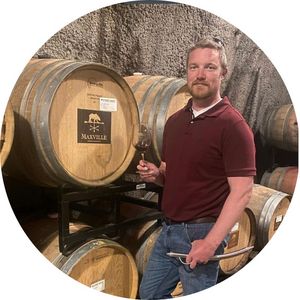 Collin Lilly is from Asheville, North Carolina, where his first vineyard experience occured at 8 years old. He was introduced to wine through his family's estate vineyard and winery by his uncle, the winemaker and viticulturalist. Over the years, Collin and his family established 17 acres of French varieties, and he officially began his winemaking journey with his family's first vintage in 2010.
It wasn't until his first year of college football at the University of North Carolina-Charlotte that Collin truly became passionate about making wine and decided to pursue a career in winemaking instead of his future in football. Having arrived in Napa Valley in 2015, Collin has worked his way up the winemaking ladder.
Starting as a seasonal harvest worker at renowned wineries like Louis Martini and Anomaly Vineyards, he later became cellar lead at Cade Winery, all while continuing his grape-growing and winemaking education at Napa Valley College.
Collin brings his versatile background and a wealth of knowledge in making high-end luxury wines to Maxville.
Event Location